Huangguoshu Waterfall, located in Huangguoshu National Park of China, is a tourist destination in West China, just 128 km from Guiyang city.  Huangguoshu waterfall, also known as "Yellow Orchard" Waterfall, is the most famous waterfall in China, and the largest waterfall in Asia. With 101 meter wide, and 78 meter high, the waterfall is surrounded by 18 smaller waterfalls in nine layers. The water flows down to the Rhino Pool, presenting a magnificent view. Welcome to China for Guangzhou Fair. We are pleased to offer cheap Guangzhou hotels booking in Cantontradefair.com, and we also provide great service in China tours and perfect Indochina tour packages for you.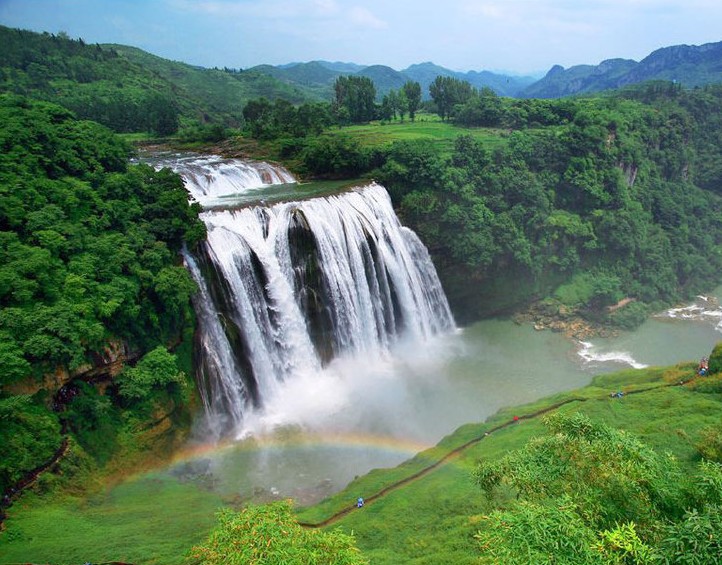 The Huangguoshu Waterfall is the center of the scenic spot. It is the biggest waterfall in Asia, spanning 68 meters high and 84 meters wide. In flood season, it looks just like the Milky Way pouring down, making the precipitous cliffs tremble while fine mists of water droplets rise from the plunge pool. It is particularly superb when a rainbow arch appears from the plunge pool of the waterfall under the shining sun. In dry season, the water separates into several streams falling down from the cliffs like a fairy maiden's elegant hair, charming and graceful. On the top of the precipice opposite the waterfall stands a pavilion, from which visitors can enjoying the waterfall. There is a 134 meter long water-curtain cave behind the waterfall. Inside it, you can see the plunging water like numberless strings of pearls flying down over your head and reflecting rainbows in the drizzle. It is really an amazing view.
The Water Curtain Cave dissects Huangguoshu and provides visitors view ports on the waterfall. The total length of the cave is 134 meters, including windows and halls. A road on the mountainside leads into the Water Curtain Cave, where the waterfall can be heard, watched and touched. On sunny days, there will be a rainbow arches over the waterfalls.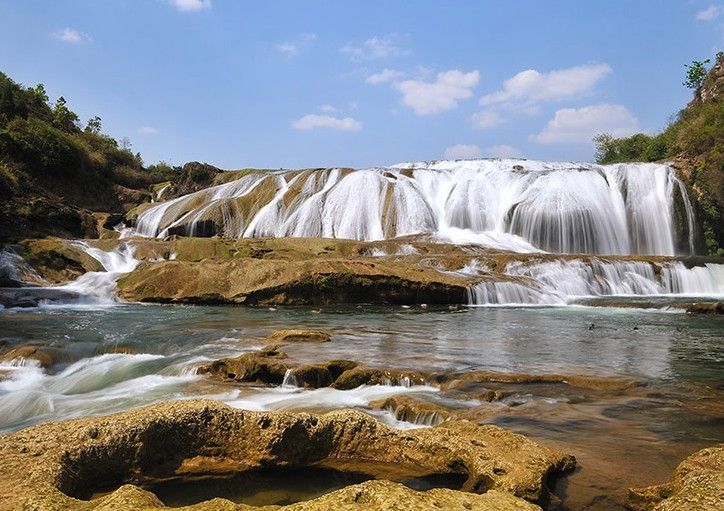 The Huangguoshu Grand Waterfall changes with seasons. In winter, it falls down gently due to decreased amount of water; while in summer and autumn, its volume increases abruptly, with earthshaking momentum. Sometimes, the surging waterfall sends up foams and smokes hundreds of meters high, often making the surrounding areas in the drizzle.
Huangguoshu is also known for karst caves, natural miniature landscapes, stone forests on waters, running waters in the high mountains, and the deep and serene valleys. Near the spot, there are a number of fascinating tourist attractions, such as Tianxing Bridge, Stone Village, Dripping Pong and Baling River, each showing its unique style.