As described by World Heritage Committee, "Mount Lushan, in Jiangxi, is one of the spiritual centers of Chinese civilization. Buddhist and Taoist temples, along with landmarks of Confucianism, where the most eminent masters taught, blend effortlessly into a strikingly beautiful landscape which has inspired countless artists who developed the aesthetic approach to nature found in Chinese culture."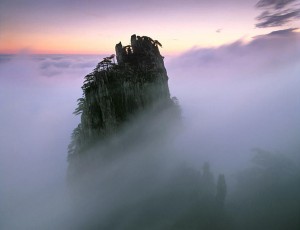 There are many attractions on the mountain, such as Xiaotian Pool, Wangjiang Pavilion, Tian Bridge, Hua Path, Datian Pool, Longshou Cliff, Xianren Cave, Sanbao Tree, and Hanpo Pass. At the foot of the mountain are historical sites, such as Guanyin Bridge in the Song Dynasty, Bailudong Academy, and Donglin Temple in the Jin Dynasty.
Mountain Lushan is reputed as "being dreamlike in spring, verdant in summer, intoxicating in autumn, and dazzling white in winter" with its elegant and beautiful. Its scenery is the most beautiful in summer and winter, and it is an ideal summer resort for people in midsummer.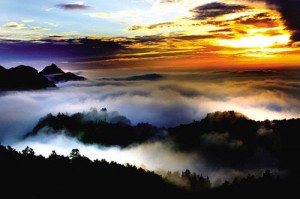 Mountain Lushan is a cultural mountain with a long histoty for 2,000 years. More than 1,500 historical figures have been to Mountain Lushan, leaving 4,000 poems, a large number of articles and travelogues, about 900 cliff inscriptions and more than 300 pieces of stone inscriptions. Bailudong College of Mountain Lushan takes the first place in the four colleges of ancient China. Mountain Lushan is the center of Buddhism and Taoism in ancient times in the south. Donglin Temple is the Buddlism place of the Pure Land, having a major impact on the sinicizion and socialization of Buddhism. Mountain Lushan has modern and international villa community, keeping about 600 different styles of villas from 20 countries so far. In 1930s, Mountain Lushan became the "Summer Capital" of the national government, after the founding of the people's Republic of China , the CPC central committee held three meetings in Mountain Lushan, which had a major impact on China's development.
The modern villas are quite a sight on Lushan Mountain. Each villa is an individual building complex with unique style and structure, including styles of Rome- and Gothic- churches, Japanese building and Islamic Mosque. The architects tended to build the villas in shady places, and pursued a natural and casual style. It is this style that enables the villas to be well integrated with the natural scenery. The modern villas on Lushan Mountain, mostly one or two-storeyed, though in clusters, are less densely located and decorated with trees all around, which is a pleasing picture to the eye. The villa complex is simple and natural in style. Each is like a distinctive geometric figure. You could hardly find two villas that resemble each other.