Embracing the vast South China Sea, Dameisha and XIaomeisha are two of Shenzhen's finest seaside resorts, and have been referred to as "The Hawaii of the East". Situated at Dapeng Bay, they are the favoured recreational spot for locals keen to make the most of their holidays amid lush, tropic scenery and fresh air. You could go to Dameisha and Xiaomeisha for a trip when you come to Guangzhou for Guangzhou fair , By the way, Cantontradefair.com provides Canton Fair hotel packages and travel guide in China and Indochina, welcome to book.
Dameisha Beach Park is lying by the beautiful South Sea, boasting over 1800 meters beach between the mountain and sea.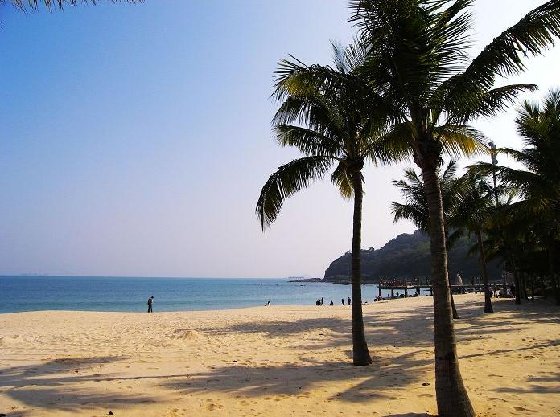 In the center of the park's total area of  130,000 square meters, there are three different sizes, different styles of tensioned membrane, each tensioned membrane has for tourists Sun PlazaVarious facilities for leisure, dressing, washing hands. Square building fully take into account the combination of natural landscape and cultural landscape and level, a variety of vegetation and the ocean, beach, fully integrated, off each other. Standing on the plaza vistas, vast water the occasion of rippling blue waves, golden sandy beaches sparkling. The sea breeze blowing, the shady trees on the square; under the sun, thick green summer heat of summer sadly dissipated.
One of the most popular summer resorts in Shenzhen, Dameisha promises golden-sand beaches and clear seawater. Free to the public, it draws more than 10,000 swimmers on weekends and public holidays during summer and autumn.


Xiao Meisha Scenic Area is surrounded by green mountains on three sides, with one side facing the sea. At the edge of the sea the sandy beach is like a crescent set between the blue sky and the vast ocean. This beach, resplendent with multicolored umbrellas, stretches for 1,000 meters (about 0.6 miles) and is noted for its clean bathing water. Out to sea yachts run before the wind giving up white spray, while motorboats and parachutes may also be seen. Laughter fills the air and when night falls, the barbecue field attracts crowds lured by fragrance of the food being prepared. The blue sky, blue water, white crested waves and golden sands attract thousands upon thousands of people who come here each year.
Da Meisha and Xiao Meisha Scenic Areas are Shenzhen's two excellent bathing beaches. On sunny days, many wedding couples come to the beach to pose for their wedding photos. How romantic! It is really worth paying a visit there.