Located in the northeast of Shaoguan City in Guangdong Province, Danxia Mountain is called "Red Stone Park of China", 45 kilometers away from downtown Shaoguan. Because of the brilliant red color, the red stone group covering a total area of 282 square miles is called "Danxia Mountain", meaning "red rays of the sun" in Chinese word. Formed of the red sandy rock, Danxia Mountain area is characterized by the red steep cliffs with precipitous landform of even peak, sheer body and flat valleys. In geography, it is also the name place of "Danxia Landform", which refers to the sort of landform similar to the Danxia Mountain.  Welcome to Danxia Mountain when you come to Guangzhou for Canton Fair 2013, Cantontradefair.com provide Canton Fair hotel packages and travel guide in China and Indochina, welcome to book.


Among more than 1,200 places in the world found to have the Danxia landform, Danxia Mountain is a concentrated area with largest area, the most typical characteristics, the richest landform and the most beautiful Danxia landform.
The Danxia Mountain consists of many other wonderful scenic spots, including Zhanglao Peak, Yangyuan Hill, Xianglong Lake and Jin River. At the foot of Zhanglao Peak, there is a grotto temple that was built during the Northern Song Dynasty (960-1127). The Biezhuan Temple, which lies in the middle of the Zhanglao Peak, is one of the ten most notable temples of Guangdong. Yangyuan Hill and Zhanglao Peak face each other across a river. The hill is renowned for the marvelous Yangyuan Stone, which looks like a male genital. The Xianglong Lake (Flying Dragon Lake) sits to the south of Zhanglao Peak, named so because the lake resembles a flying dragon. The Jin River features charming waterside scenery and wonderful aquatic programs, such as swimming, boating and yachting.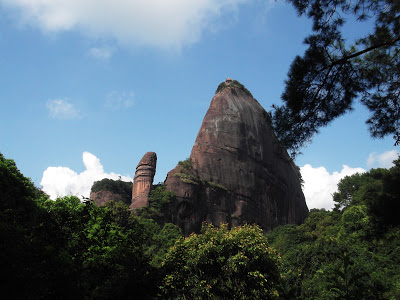 Danxia Mountain also has some unique stone, such as Yang Yuan Stone, yin Yuan Stone, Breasts stone, Sleeping Beauty and other attractions, make Danxia Mountain "natural sex culture museum". Particularly noted are two formations: a stone pillar called the Yangyuan ("male/father stone") that bears a remarkable resemblance to a phallus and the Yinyuan hole, which somewhat resembles the female labia.
At the entrance to the mountain, the Jinjiang River flows gently by and the reflections of beautiful peaks in the crystalline river water seem even more beautiful than the scenery of Guilin, resembling landscape paintings rich in poetic and artistic conception.