Canton Fair 2013 is the 113rd session of the China Import and Export Fair. The Canton Fair is China's largest trade fair, a fair of the highest level, and of the most complete varieties will be held in Guangzhou on April 15 to May 5, 2013 in a larger scale. It is held twice per year in the spring and fall. The Pazhou exhibition halls will be used alternately during the whole fair. According to AUMA's statistical standards, the CECF as a biannual event now ranks the world's No.1 in terms of scale.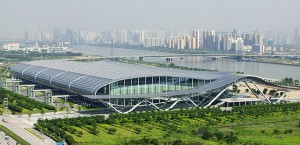 The growth of international trade visitors and buyers at the Canton Fair is China's trade is now on the map of international trade, which increases to export sales. This gives them the opportunity to make changes and improvements to their products, allowing them to reach world-class distinction. The show also allows people to trade in China involved in learning about product development, as is done abroad and how they implement their own projects and product development.
Despite the general downturn in the global economy, the Canton Fair, with its 56-year history, remains a highly profitable and prestigious event. Generating an unrivalled volume of business transactions and boasting a vast exhibition area of more than 1 million square meters, it is widely regarded as the best gateway into the Chinese market.
Getting to Guangzhou can be a challenge, especially during the Canton Fair. Many international airline companies provide dozens of flights into Beijing, Shanghai, or Hong Kong, but they only offer fairly a few direct flights to Guangzhou.