Turpan is the hottest city in China, is a model Silk Road oasis. It is a sleepy desert town shaded by poplar trees and grape arbores, peopled by Uygurs in traditional dress and irrigated by a vast system of hand-dug underground channels that funnel the melting snow of the Heavenly Mountains into Turpan. It has been blessed with well water and, through the ingenuity of its inhabitants in ancient times, has an intricate irrigation system that allows fruit cultivation, in particular juicy melons and plump grapes. Welcome to China for Canton fair. HRC is pleasure to provide booking Guangzhou hotels, China Tour Guide and Indochina tour packages for you.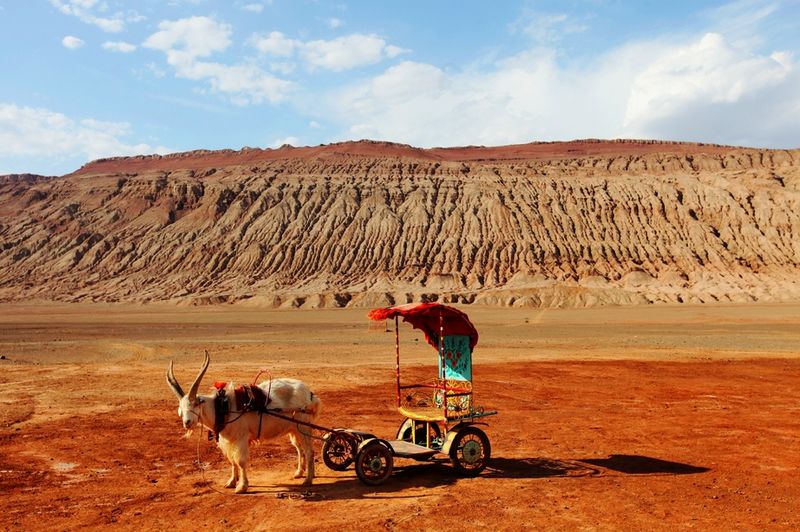 There is no life on the hills; no grass grows, no animals or birds lives there. In summer days, the extreme heat can even boil an egg simply by burying it in the sand for just a few minutes. In spite of the heat, this site is still full of visitors to see the beauty around the hills like the Grape Valley, Peach Valley, Wood Valley and Shengjinkou Valley and other valleys shaped by the diastrophism millions of years ago. Among them, the unique beauty of Grape Valley attracts numerous visitors which surely add more flavor to the Flaming Hill nearby.
Turpan is one of the two centers of Uyghur culture. The special charms of Urghur culture can be reflected in the dancing, music, clothes, religions, food, life styles and architectural styles. They are living documents for visitors to know more about Urghur culture. Additionally, Turpan is also the representative of the unique natural environment in West Region as well as the representative of the civilization of oasis. The natural sceneries in Turpan like desert, oasis, grassland and forest are the most prominent in the whole Xinjiang Province. What's more, Turpan is rich in grapes and melons, which gains it the reputation of "Kingdom of Fruits."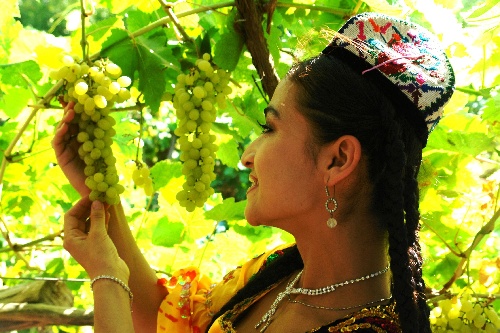 The architectural style of the pagoda displays both Uyghur and Han characteristics. It stands 37 meters high and 72 flights of stairs curl around the center leading to the top. The pagoda's body was built of brick and wood but it also contains beautiful carvings in various patterns of Uyghur traditional design, which makes the pagoda quite unique among the hundreds of pagodas in China. At different levels on the body of the pagoda there are about 14 windows facing different directions. At the top, there is an observation room with four windows on each side of the room so that visitors can get a complete view of Turpan city.