Canton Trade Fair can partly reflect the trading situation of China but not the huge processing trading condition. Furthermore, the decline of the turnover in the fair this time cannot represent the developing trend of our export trading industry. Days ago, the Report on the Foreign Trade Situation of China issued by business department pointed out that we would make progress while ensuring stability and focus on growing steadily, adjusting structure and promoting balance. Under this circumstance, our foreign trading is growing with a stable speed in the second season. In 2012, we will maintain a smooth development during the year. However, Canton Fair still plays an important role in China's foreign trade. Along with the special background in the past and more than fifty years' acceleration of buyers, the fair can be considered as the only exhibition which can bring about a great amount of orders with high quality in the demostic. Comparing to those exhibitions in local or aboard which look for orders without any directions, Canton Fair is obviously more effective and characteristic.
The city of Guangzhou in China, known as Canton until 1949 and still referred to that way by many Westerners, is one of the new capitals of global trade. In addition to being the home of thousands of Chinese and multinational businesses, it also hosts the world's largest trade fair, known as the China Import and Export Fair as well as its unofficial name, the Canton Fair. The Fair is held twice a year, and the first one in 2009 will be the 105th in its history.
If you go to Guangzhou for Canton fair 2013, Cantontradefair.com could offer  Canton Fair Packages, for example:
Royal Mediterranean-Deluxe Ksize Bed Room Canton Fair Package     (Save USD339)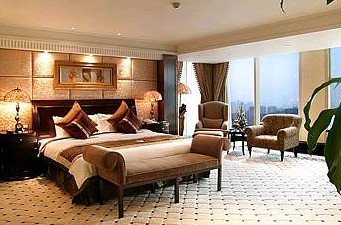 Royal Mediterranean Hotel Guangzhou
USD581 for 3 days & other benefits
Room type for this package: Deluxe Kingsize Bed Room
Royal Mediterranean Hotel Guangzhou, a luxury hotel in fascinating city center and just next to computer center, is worthy of stay where business, dining, shopping, entertainment and sightseeing are within prompt access.
Package is only available for the following period:
Oct 14 2013 -Nov 4 2013
The price is ONLY available for Minimum Stay of 3 Nights and Prepaid Booking.