Nyingchi Located on the lower reaches of the Yarlung Zangbo River, Nyingchi is 3,000 meters above sea level. It has humid climate and beautiful scenery, so it also named "the Switzerland of Tibet". The inhabitants here are mainly the Moinbas and the Lhobas. Nyingchi is attractive with the Namjagbarwa, the Great Gorge of the Yarlung Zangbo River, Basumco, Zayu, and Bome.
The area enjoys exceptional advantages in human and natural resources. The Nyingchi residents are striving to build the area into an international forest park at the world's "third pole," where people can travel, climb mountains and cliffs, explore, drift along rivers and conduct scientific investigations. The distinctive folklore, music, songs, dances and athletic competitions of this area also add color to the beautiful scenery. There are 8 scenic zones and 35 scenic spots in the Nyingchi area. Among them the Yarlung Zangbo Great Canyon with a spectacular U-turn might be the most famous. More information about China Tour in chinatourguide.com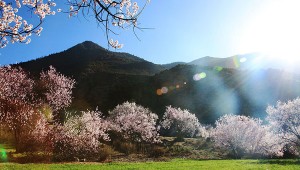 With its upper reaches formed by Yangwogou, Jiaxingou and Bujiagou, Niangpugou lies 50 kilometers west of Gongbu Jiangda County and represents one branch of Nyang River.
There is one Karst cave at the end of Bujiagou and three hot springs at 4200 meters above sea level: the upper is Nun Hot Spring, the middle is Lama Hot Spring and the lower Buru Hot Spring. Lots of old trees surround these hot springs, which together with the numerous caves and brooks compose a grand symphony.
The northwest Yangwogou is well-known for its strange stones and perilous peaks. At the bottom of the mountain, Baga Temple (or Baiyanshan Temple) has existed since its construction during the period of the 5th Dalai Lama. The natural cave is decorated with numerous paintings of Buddha.
There is a Karst fountain at the bottom of Baga Temple which spews consistently six times every day all round the year.