Halong Bay (or Ha Long Bay) in Vietnam is one of the most beautiful and breathtaking places on the planet. In 1994 it was added to the list of UNESCO Heritage Sites. In 2011 the magnificent landmark of Vietnam was declared one of the "New Seven Natural Wonders of The World" beating serious "competitors" like Vesuvius Volcano in Italy, Great Barrier Reef in Australia, and even Baikal, the deepest lake in the world. Welcome to China for Canton Fair 2014. We are pleased to offer cheap Guangzhou hotels booking in Cantontradefair.com, and we also provide great service in Indochina tour guide and perfect China tour packages for you.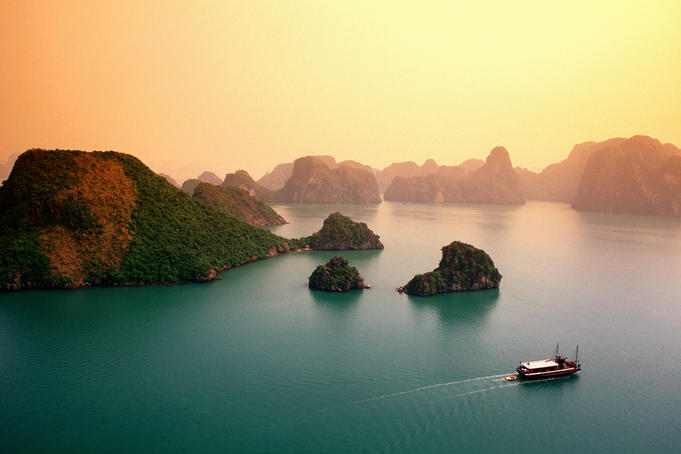 Created over millions of years, tectonic forces slowly thrust the limestone above the water-line. During this process waves lapping against the stone carved out a number of vast, striking caverns, as well as other geologically interesting formations, such as tunnel caves and uniquely shaped massifs.
Almost all islands of Halong Bay are rocky, and there is a countless number of caves and grottos of all sizes and shapes, filled with small waterfalls, stalactites and stalagmites. Some of the caves became a tourist attraction. Lit up with colorful lights, they look like fairy tale underground castles.
Ha Long Bay has an area of around 1,553 km2, including 1,960–2,000 islets, most of which are limestone. The core of the bay has an area of 334 km2 with a high density of 775 islets. The limestone in this bay has gone through 500 million years of formation in different conditions and environments. The evolution of the karst in this bay has taken 20 million years under the impact of the tropical wet climate. The geo-diversity of the environment in the area has created biodiversity, including a tropical evergreen biosystem, oceanic and sea shore biosystem. Ha Long Bay is home to 14 endemic floral species and 60 endemic faunal species.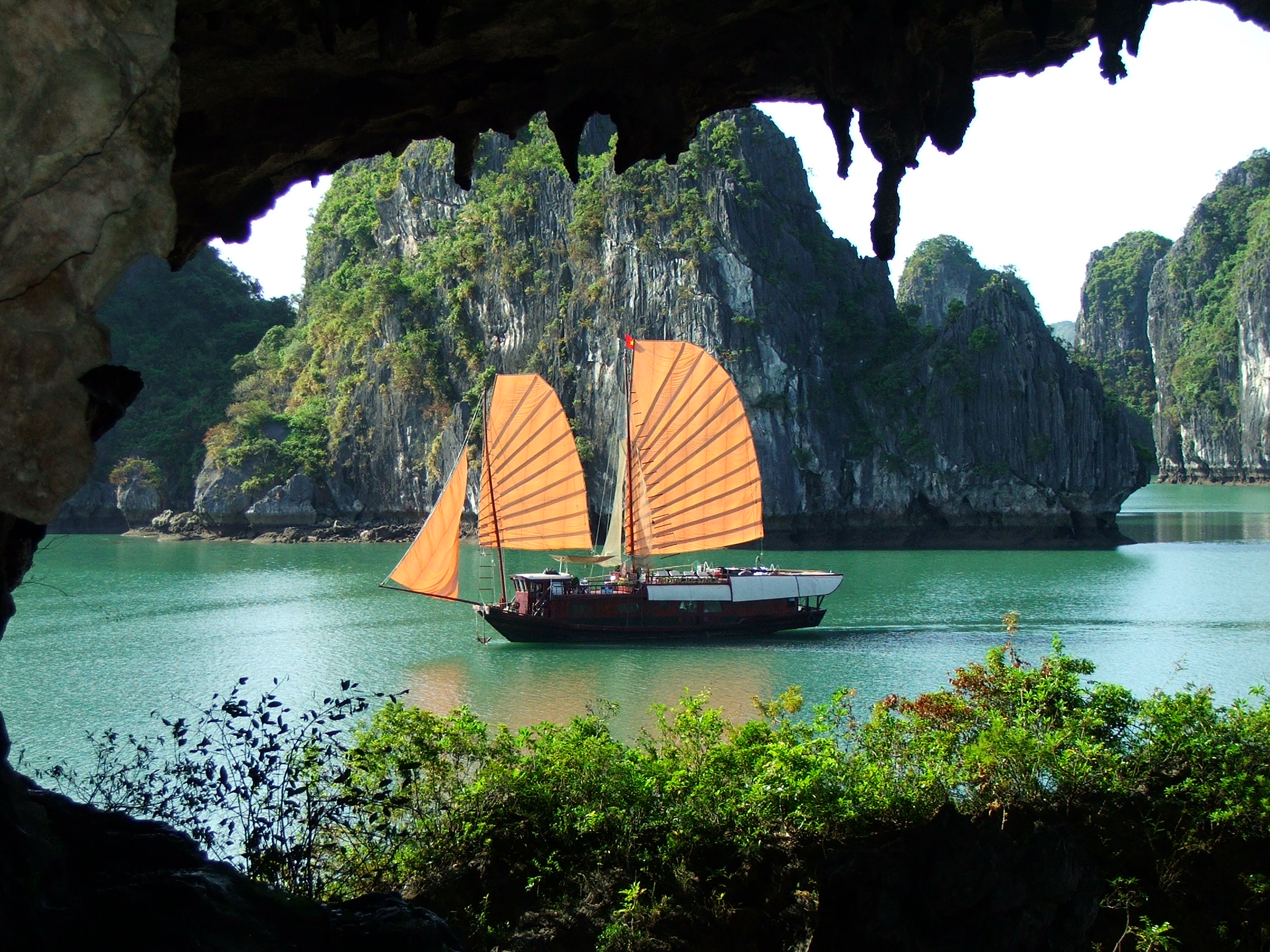 Local people have a very colorful story about creation of the bay. It is told that once upon a time, when ancestors fought with the Chinese, Gods sent dragons to help Vietnamese warriors.  Trying to make a barrier, these fearsome creatures spitted precious stones that turned into islands. These islands created a wall that protected Vietnamese people from their aggressors. Dragons liked the rocky islands and decided to leave them behind after the war.  Vietnamese named the place, where Mother Dragon landed, Ha-Long, which means "a place where the dragon descended into the sea".
This unique UNESCO World Heritage Site is a popular place for tourists but it is good to know that large parts of Ha Long Bay are officially protected from development. The islands vary greatly in size and shape as well as structure.
Visitors should allow a few days to explore this magical bay as its attractions are extremely numerous. Cat Ba Island Cat Ba Island is the most popular destination in the bay and every tour company offers a trip to the island. Cat Ba is full of the usual tourist scenario; hotels, restaurants, and bars; still Cat Ba's locals have carried on doing exactly what their ancestors did for generations before – fishing.