Banteay Srei or Banteay Srey is a 10th century Cambodian temple dedicated to the Hindu god Shiva. Located in the area of Angkor in Cambodia. It lies near the hill of Phnom Dei, 25 km (16 mi) north-east of the main group of temples that once belonged to the medieval capitals of Yasodharapura and Angkor Thom. Banteay Srei is built largely of red sandstone, a medium that lends itself to the elaborate decorative wall carvings which are still observable today. The buildings themselves are miniature in scale, unusually so when measured by the standards of Angkorian construction. These factors have made the temple extremely popular with tourists, and have led to its being widely praised as a "precious gem", or the "jewel of Khmer art. Interesting in Banteay Srei? HRC is pleased to offer great service to build a unique Cambodia tour for you.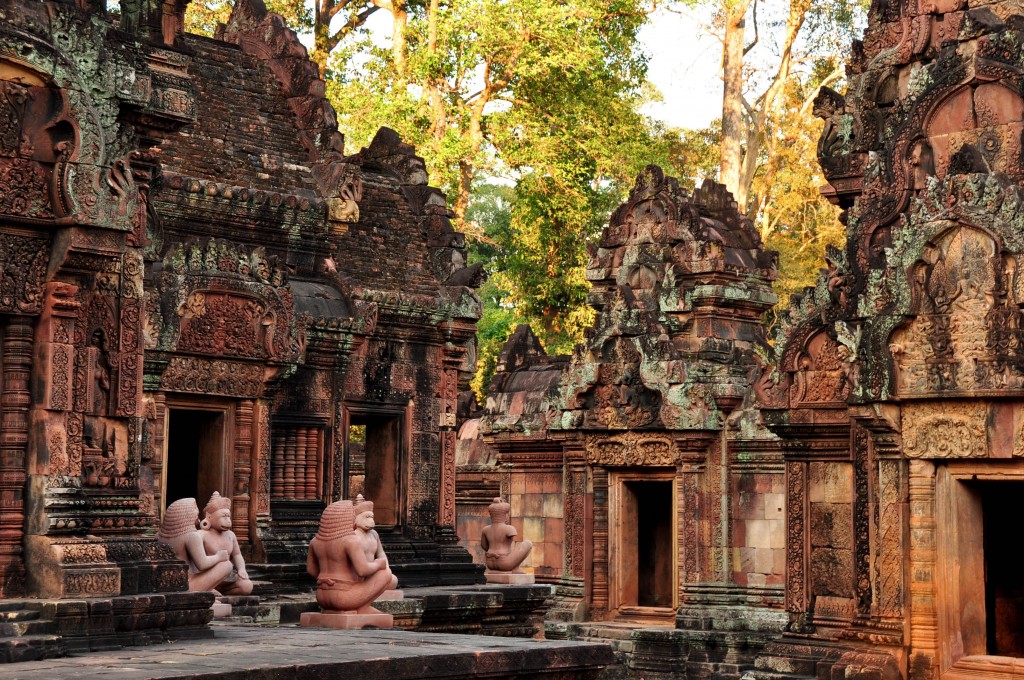 Banteay Srei is just only temple in the Angkor period that built of pink and yellow sandstone. The pink and yellow sandstone are highquality material more than the gray and green sandstone that used to build Angkor Wat and Bayon so on. As pink and yellow sandstone are so hard, that is why the carving of Banteay Srei are still good condition and very exquisite.
Banteay Srei sits alone in the countryside. It is small in scale and size, nestled against a forest backdrop. In its architecture it marks a transition from multi-level temples like Angkor Wat to a single-level design. The temple complex consists of an outer entry way, a long main causeway with parallel out-buildings, then an inner gateway with a moat and walls surrounding the temple buildings.
Architectural and decorative features are unique and fine. A tapestry like background of foliage covers the walls of the structures in the central group as if a deliberate attempt had been made to leave no space undecorated. The architecture is distinguished by superimposed pediments, motifs on the frames of the arches and standing figures in the niches. Panels are decorated with scenes inspired by Hindu epics.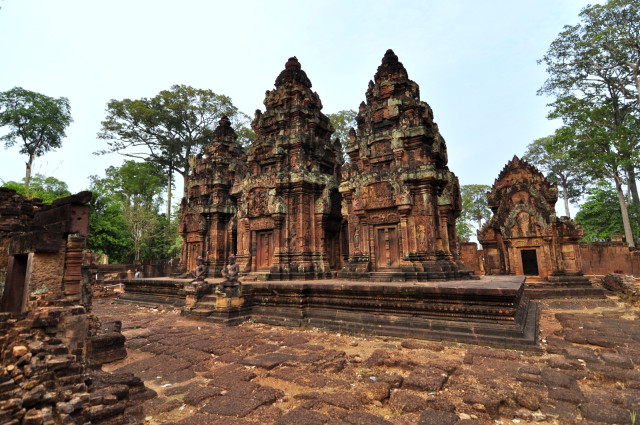 Every square inch of surface on the shrines and the libraries is intricately carved. Even the outer gateways feature fine carvings, especially on the lintels and pediments over the doorways. The refined touch of the carvings is particularly beautiful, reminders of the lovely decorative wood carvings found in Thailand, Burma, and elsewhere in Cambodia. Interwoven motifs of interlocked flowers and leaves, as well as complex geometric patterns, are everywhere, and set off the absolutely exquisite larger carved scenes from Hindu and Buddhist history and culture.
Banteay Srei is an exquisite miniature; a fairy palace in the heart of an immense and mysterious forest; the very thing that Grimm delighted to imagine, and that every child's heart has yearned after, but which mature years has sadly proved too lovely to be true. And here it is, in the Cambodian forest at Banteay Srei, carved not out of the stuff that dreams are made of, but of solid sandstone.