Dongguan Science and Technology Museum is a modern specialized museum with Dongguan characteristics. Science Museum founded in 1992, the total floor space of 13,000 square meters of the building, showing area of about 5,000 square meters. Function location for popular science exhibition centre, a technology training centre, the youth science and Technology Center.
Its major task is to organize popular science exhibition, a series of popular science lectures and forums, training activities for youth science and technology and the innovation of science and technology popularization and education activities, astronomy, Science Museum on the Internet and mobile technology promotion and publicity. Dongguan Science Museum has many popular science exhibition and event space, is to integrate scientific, intellectual and fun in one of important positions in the social science education. Welcome to China for Canton Fair. We are pleased to offer cheap Guangzhou hotels booking in Cantontradefair.com, and we also provide great service in China tours for you.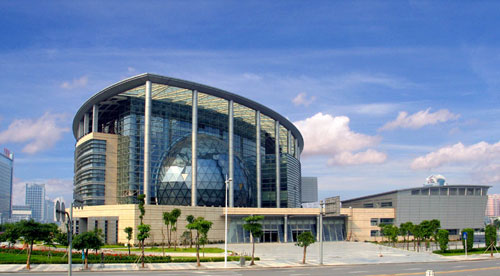 The museum is oriented on building a modern manufacturing city, fully displaying the technical level and the development direction of modern manufacture, and promoting the development philosophy and technological ideas of the modern manufacture. DGSTM is designed to be a museum of Dongguan characteristics and modern significance, whose exhibition focus is on the Manufacturing technology and information technology.
Science and Technology Museum function of the overall idea is to meet to create "modern manufacturing city," the strategic goal fully demonstrate the level and direction of development of modern manufacturing technology, to promote the development of modern manufacturing technology and the concept of thinking, build a manufacturing technology, the Information Technology Expo to focus is the topic of the Dongguan Science and Technology Museum and modern characteristics.