Yuanxiao Festival is on the 15th day of the first Chinese lunar month.  It is part of and the last day of the Spring Festival.  In the old days, people began preparing for the Spring Festival about 20 days before.  However, the Yuanxiao Festival marks the end of the New Year celebrations.  And after the Yuanxiao Festival, everything returns to normal.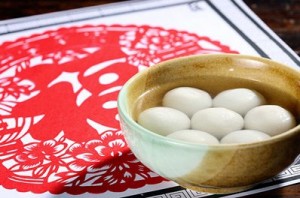 Tangyuan, a traditional food for Lantern Festival, is eaten together with family. Its name has a similar pronunciation as the word for "reunion" in Chinese. In Northern China, it is also called "Yue Xiao", which derives from the festival. The food is made from glutinous rice flour with stuffing in round shape. The difference between Tangyuan and Yuanxiao is the way they are made. People in north China make yuanxiao by rolling a hard stuffing in glutinous rice flour. In south China, tangyuan is prepared by placing the filling inside rice flour wrapping, similar to the making of jiaozi. The round shape of the balls and the bowls where they are served, come to symbolise the family togetherness.
Lantern Festival was originated at Han Dynasty, with the Buddhism flourishing in China by then. The Emperor then ordered to light lanterns in palace and temples to show his respect to Buddha at 15th of the first lunar month. This practice was expanded to other parts of China along the years. As the time goes by, more and more activities are added on the Lantern Festival. In cities there are lanterns ceremonies in which all patterns of lanterns are exhibited, and in the countryside there are activities like setting off fireworks and walking on stilts. In some places there also develops some other activities such as playing the cloth lions, rowing boats on land, doing the yangge dance. Playing the swings and playing taiping drums.This is a festival for people having fun. On the night of the festival, people go on streets with a variety of lanterns under the full moon, watching lions or dragon dancing, playing Chinese riddles and games, and lighting up firecrackers. There is really a lot of fun for the young and the old.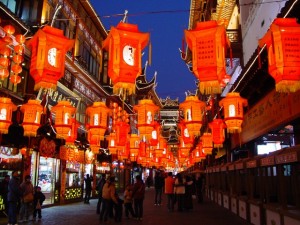 The game of guessing lantern riddles if also a must on the Lantern Festival. Lantern riddles are a peculiar game of the Chinese characters. The answer of a idle is hidden behind a beautiful poem or some common sayings which are written on the paper sticker on the festival lanterns, and the visitors of the lanterns should try to find out it. It is similar to the "crosswords". The game of guessing lantern riddles first appears in the Song Dynasty. In the capital Lin'an (now Hangzhou) of the Southern Song Dynasty (1127-1279), there would be a lot of people sitting and guessing lantern riddles on every occasion of Lantern Festival. Since riddles can give people both knowledge and happiness, they are thus welcomed by all classes of the society spreading.