Yu Yin Shan Fang Garden is one of the four famous gardens built in the Qing Dynasty in Guangdong Province.  Yuyin Mountain House is located in Panyu District of Guangzhou City, was built in the Qing Dynasty Tongzhi years (AD 1866), dating back over 130 years of history. The park covers an area of 1598 square meters, small size, fine art features. And the ticket is RMB 18.
This garden is well known for the family of Wu Yantian, the father and his two sons once scored among top three at the national imperial examinations. It is very symbolic today for the ambitious students and their parents. You could go to Yu Yin Garden for a trip when you come to Guangzhou for Guangzhou Fair.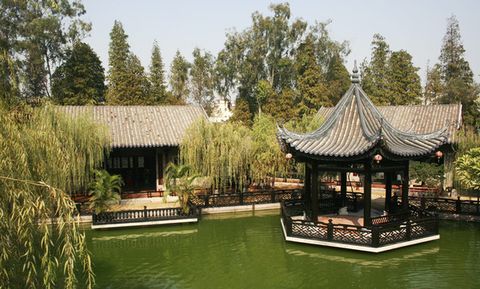 Yuyin mountain house covers an area of 1598 square meters, sit south the Northern Dynasties, to the lounge for the sector, the garden is divided into East, west two parts. Yuyin absorbed the Jervois courtyard architectural style, the entire garden layout smart delicate," hidden" and "shrink long into inch " gimmick, in limited space are building deep Liu Tang, rugby hall, pool annex, exquisite, pavilion, Shuixie smoked peacock Pavilion and bridges, in the the area is not large forest, concentrated Garden main facilities and landscape, so that the limited space into a deep and broad unlimited belle.
Yuyin Shan Fang has an ingenious layout. The pavilions, terraces, halls, bridges, lakes and hills are all included, having been carved into the 300 steps around the garden. The brick carvings, wood carvings, lime carvings and stone carvings are rich and varied, and demonstrate Yuyin Shan Fang exquisite style and serving to justify its reputation as a famous garden.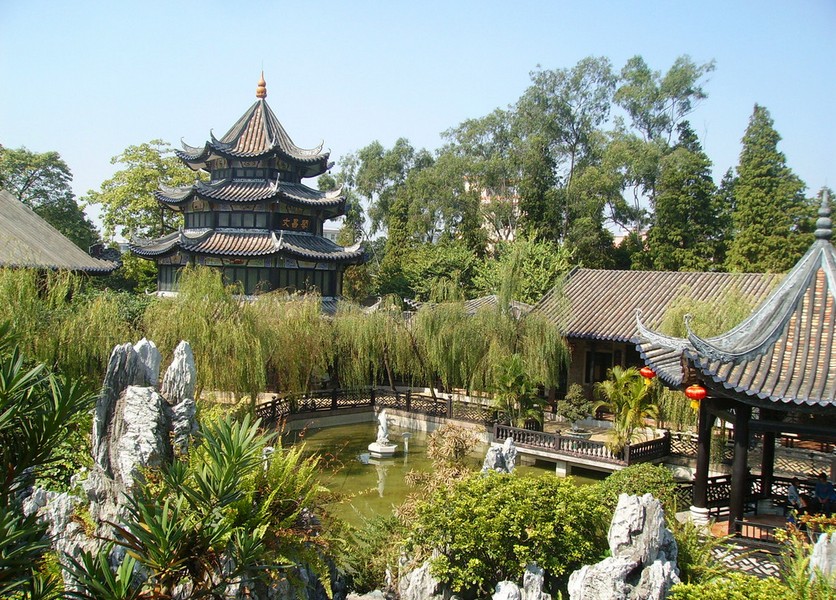 There are many trees, plum trees, pineapple and other precious Nanyang Metasequoia trees. " Smoked Pavilion" body leans against a wall and building," lying ladle cottage" the monarch north corner," the towers" internal and external communication, near Nanshan first peak, lotus Guta shadow far. The halves of the scenery through things, called" you red cross green" bridge together organically. In addition, Yuyin mountain house is adjacent to the south is a smaller Yu garden. Yu park is a residential garden, founded in 1922, is the owner of the fourth generation grandson Wu Zhongyu made. The bottom of a boat hall, hall and a small party pool a, the second glass layer has a hall, overlooking the mountain house courtyard scenery. Now home Yuyin mountain house, two Park and together, played a support role.  Cantontradefair.com provide Canton Fair hotel packages and travel guide in China and Indochina, welcome to book.
The Mountain House is an exquisite example of fine work of art. The original designs with their deep meanings are used in the elegant architectural features of the house. It is a fine specimen of Lingnan Garden architecture.