Gulangyu Island covers an area of 1.78 square kilometers and stands opposite to Xiamen City across the sea. Xiagu strait is called Egret River. With beautiful sceneries, Gulangyu Island is accredited as "garden on the sea", "architecture exhibition of ten thousand nations", "hometown of music" and "island of piano". It is one of the most attractive landscapes of Xiamen tourist spots. Initially called "Yuanshazhou Island", Gulangyu got its present name due to ocean waves hitting the huge reef. The sound generated resembled the beating of a drum. Therefore, the island was named "Gulangyu". In Chinese, "Gu" means "drum" and "lang" means "waves" while "yu" means "islet".  You could go to Gulangyu Island for a culture & nature trip when you come to Guangzhou for Canton fair 2014, HRC also provide China tour guide and Indochina tour packages, welcome to order.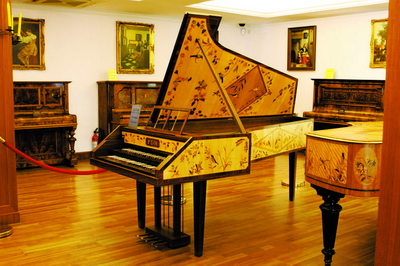 Owing to historical reasons, the structures remain well-preserved, giving it the nickname of "Architecture Exhibition of Ten Thousand Nations". Besides, Gulangyu is also well known as the "Hometown of Music" and "Island of Pianos". Home to the only piano museum in China, contains more than 5,000 pianos and a 450-square-meter piano museum, showcasing more than 40 ancient pianos from around the world.  Gulangyu Island is known as the piano island because people here love the piano. As early as 1913, students in schools run by foreigners started learning the piano. The enthusiasm for music later spread to more ordinary people on the island. Many piano families have since then come into being and produced accomplished musicians. Meanwhile, Gulangyu also enjoys the good reputation of "Garden on the Sea", because it is delightful in all seasons, characterised by singing birds and fragrant flowers. Main attractions include Sunlight Rock, Shuzhuang Garden, Yu Park, Bright Moon Garden and Museum.
Gulangyu is unique in China as a "traffic-free island". It is connected to the main island of Xiamen only by ferry. Neither cars nor bicycles are allowed, thus providing an alternative to the busier Xiamen Island across the river, although the recent introduction of electric tourist buggies may be damaging the island's charm. Freight is pulled on wheeled buggies up the often steep lanes by strong teams of men.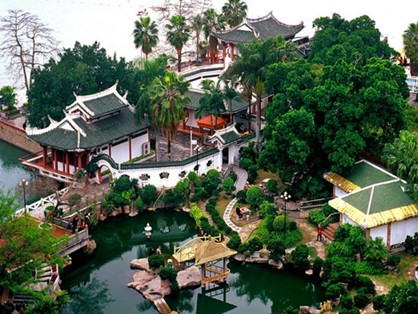 Gulangyu Island has about 20,000 permanent residents, all of whom enjoy a comfortable, relaxing life. Only electric-powered vehicles are permitted on the island, so the environment is free from the noise and pollution of combustion engines. Breathing the clean air, appreciating the ever-present green trees and lovely flowers, anyone here can feel like they are in heaven. With classical and romantic European-style architecture, the island truly deserves to be called the'Architecture Museum'. It is also known as the 'Cradle of Musicians' and 'Island of Music' because of its reputation for music appreciation.