Panyu artificial lake (Bao Mo Yuan) located in the Guangzhou Panyu Shawan Town, Zini Village, the first built in the end, covering mu, was destroyed in 1995 in the 1950s reconstruction, which lasted 6 contains expanded to more than 100 acres, is a set of Qing culture, Lingnan ancient architecture, Lingnan garden art, the Pearl River Delta Water Village in one of the gardening art park.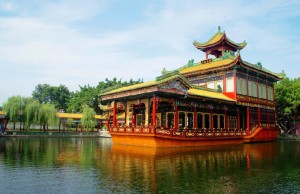 Bao Mo Yuan, The Artificial Lake, also known as Bao Mo Garden, was built at the end of the Qing Dynasty. It was rebuilt in 1995 and expanded the area up to 130 acres. It took five years to finish renovating Bao Mo Garden. Welcome Panyu artificial lake when you participate in Canton Fair 2013 .
Bao Mo Yuan is one of the famous scenic spots in Panyu Shawan Ancient Town. The Lingnan style architectural buildings, gardens, streams and rivers with beautiful landscape draw tens of thousands visitors each year to visit this place.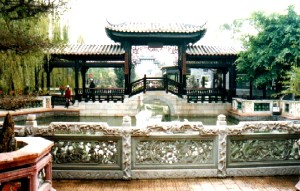 The Panyu artificial lake, green, water features can be described as an absolute. Lai King Bay, clear Pinghu, Po Mukho and one thousand meters long river through encircle endless clear water as a mirror, trickle, while over 30 stone bridges across the majestic rivers and lakes above. driving boats and boat, as if being in the Penglai into the lake , Qing Lan Lan, water around the lake, pine invasion smoke Koi thousands of red surge, Yang Liu Yiyi arouses pity. In addition, the Zizhu Creek in the Zizhu, also designed for children play in the water Immersió more children paradise of the artificial lake landscape: treasure Mexican Church, cure Hall, the Pavilion of a pure heart, purple dong fang, Yang Lian bridge, Lung Museum, thousands of like corridors, etc. These landscapes are embedded in the Millennium Podocarpus paniculata ginkgo tree, Tangchun trees, in particular, is full of vigor, people feel comfortable.