Sunflower Garden million theme park, located in Panyu, Guangzhou Wanqingsha town, covers an area of 260,000 square meters, planting one million sunflower, become the first in the country house, all imported seeds (mainly Japan) ornamental sunflower park. Welcome to Guangzhou for Canton Fair 2013, Cantontradefair.com provide Canton Fair hotels and Guangzhou tours, Welcome to inquire.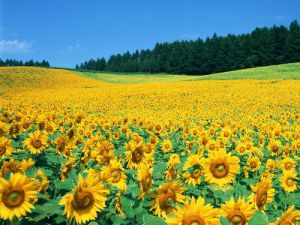 Apart from sunflowers, there some gardens of other flowers the sunflower garden, such as rose garden and lavender garden. However, these gardens are far smaller than the sunflower gardens. Moreover, there is also a squirrel land here, where children can play with the squirrels.
Sunflowers are a symbol of adoration as they turn their heads to the Sun and stand higher than all the other flowers. They belong to the genus helianthus, which is a reference to Helios, the Sun God.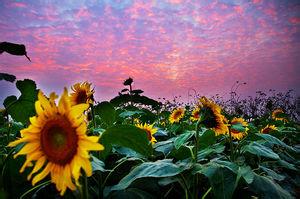 Since the garden is a rare landmark in Guangzhou, it is nominated as the prestigious tourist spot in the Guinness Book of World Record. The idea to build the garden was originally inspired by a paint of the famous painter from Holland, Van Gough, who one century ago painted a very classic sunflower, which is not simply a flower but a reflection of passion. The garden might be the only ecological garden in Guangzhou which uses sunflowers as its main theme and its opening has marked a new genre of international garden concept in China that uses a particular flower as its major theme.
Guangzhou Panyu Sunflower Garden 番禺百万葵园
Add: Xinken 15 Yong, Wanqingsha Town, Guangzhou
地址:广州市南沙区万顷沙镇新垦15涌
Tel: 020 84956360
Website:  http://www.bwky.cn  (in Chinese)
Opening Hours: 08:00 – 18:00
Price: 30RMB