To many people, the Zhuhai Fisher Girl Statue is the landmark of the city. Standing elegantly at Xianglu Bay, she drapes a fishnet and holds a pearl high in the air with both hands up to the sky. The statue symbolizes a vigorous and lively Zhuhai welcoming visitors from all over the world.
Facing beautiful Xianglu Bay, The Fisher Girl Statue is regarded as the signature artwork of Zhuhai. It is made of 10-ton granite stone, 8.7 meters high. With a graceful posture and adorned with a beautiful necklace, the fisher girl holds a shining pearl up in the air, a face both happy and shy.
Composed by granite at 8.7 meter of height, the statue is the must visit spot for all tourist to Zhuhai. The fisher girl is very beautiful with a little shy, she stands at the charming Xianglu Bay in an elegant pose, and raising a bright pearl with both hands high in the air, symbolizes Zhuhai's brightness. The statue was designed by a famous Chinese sculptor, Panhe. The granite with 8.7 meters high and 10 tons in weight. You could go to Zhuhai for a trip when you come to Guangzhou for Canton Fair.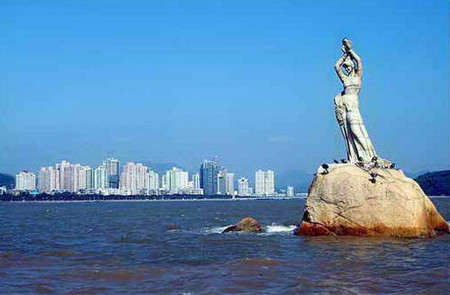 There is a legend surrounding the Fisher Girl. The daughter of the Southern Sea Dragon King was attracted by the fantastic scenery in Xianglu Bay, and she decided to stay there as a common fisher girl. Gradually, she fell in love with an honest and good-natured man called Hai Peng. Hai Peng wanted her magical bracelet as a token of her love, which she then gave. However, without this bracelet, the fisher girl would be destined to loose her immortality and die. Hai deeply regretted this and he decided to try to bring her back to life. He eventually found an herb that could help people to repossess the living. Everyday he watered the herb with his own blood and in the end; the fisher girl regained her life. They then lived happily ever after.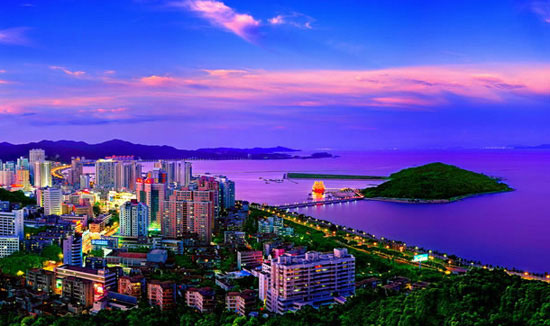 Entrance Fee: free
Opening Hours: 09:00-21:00
How to get there: Buses No. 9, 99 and Sightseeing Line 2 can take you there