Yueyang Tower is an ancient Chinese tower in Yueyang, Hunan Province, on the shore of Lake Dongting. Alongside the Pavilion of Prince Teng and Yellow Crane Tower, it is one of the Three Great Towers of Jiangnan.
Since the Tang Dynasty, Yueyang Tower had gradually become a popular tourist destination as well as a favored site for romantic scholars, who would frequent the place for chanting and writing poems. The widely-read article On Yueyang Tower by the great writer of the Northern Song Dynasty Fan Zhongyan brought great fame to Yueyang Tower, making it a well-known scenic spot in South China.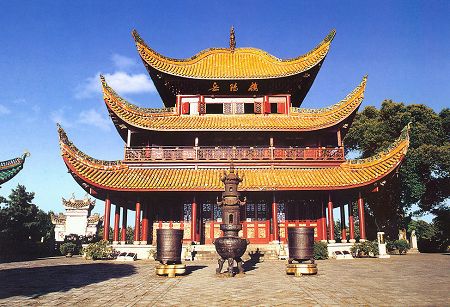 The beautiful Yueyang Tower has been recognized as an architectural masterpiece of ancient China. The tower is a three storey, rectangular architecture which reaches 15 meters (about 49 feet) high and is constructed entirely from wood. Surprisingly, no nails or beams have been used in its construction. Wood pillars have been included in the construction to ensure the strength of the building. The roof of the Yueyang Tower was designed with unusual curved lines which are similar to the shape of a helmet used by a knight of ancient times. Welcome to China for Guangzhou Fair, you could go to Yueyang Tower for a culture journey. HRC is pleased to offer great service in China tour guide for you.
Seen from a distance, the Yueyang Pavilion seems like a giant bird which is in flight. The red building with its yellow glazed roof tiles is a splendid and colorful sight. Views here are spectacular. You will see the pavilion glowing in the sunshine together with the drifting clouds as reflections on the glimmering surface of the Dongting Lake. You will also see the white sails of passing boats contrasting with the blue sky. Couplets and carved screens are hung on the wall inside the building providing the visitors with the history of this pavilion.
Climbing up to the top of the tower, visitors may enjoy a great bird's sight of the mists and ripples of the Lake Dongtinghu, with boats sailing on the vast lake. In addition to the splendid view, the tower also features its rich history and culture. It was announced a national scenic resort and historic site in 1988.