The Yannanfei (wild goose flying to the south) Tea Field Holiday Resort is situated in Yanyang Town, against the Yinna Mountain Nature Reserve. It is not only a beautiful tea plantation but also an elegant vocation village. It was opened up to tourists on October, 1997, reputed as "a bright pearl in the green meadow". Welcome to Guangdong for Guangzhou Fair, you could go to Yannanfei Tea Field for a nature journey. HRC is pleased to offer great service to build a unique China tour for you.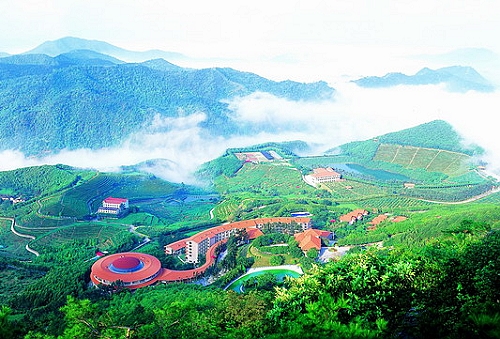 Based on the high-quality tea and fruit, green garden, it is a ecological natural landscape of tea field featuring outstanding tea culture and Hakka culture. Against the mountain there stands the Weilong Hotel, Weilong Restaurant, Changqing Tea House, Mountain Villa and other facilities; in addition, the Yannanfei Stone is the landmark building of the holiday resort. Now three major areas have taken shape: Tea Planting & Processing Area, Tea Culture Exhibition & General Service Area, Qiaoxi Hakka Folk Culture & New Tea Demonstration Area. The Yannanfei Tea Field Holiday Resort is a state 5A scenic area and a national tourism demonstration site.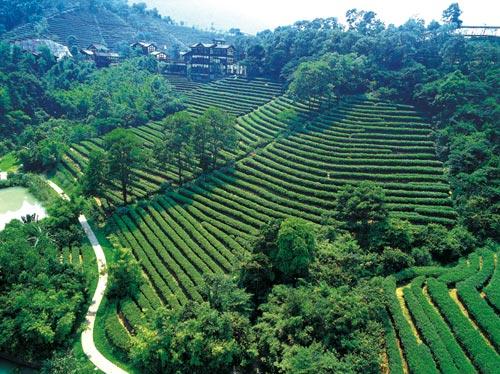 8000 mu famous tea is planted on Tea Mountain, such as, Dancong, Qilan, Huangjingui. Besides, there are 3500 mu excellent fruits, such as, Shatian grapefruit, litchi fruit, and green olive. It is convenient for cars to drive up the hill because of a 5-kilometer hillside cement highway.  It is a special vocation village with the idea of cherishing nature and entering into the spirit of nature and reflects the culture of tea and Hakka culture perfectly.