Located in Cuiheng Village of Zhongshan City, Sun Yat-sen's Former Residence is now a museum. The museum shows the life story of Sun Yat-sen against the backdrop of traditional folk houses in Cuiheng Village. Covering an area of 500 square meters, the former residence is a two-storey building with a combination of Chinese and Western motifs. It is the only immovable cultural relics under the protection of State Council in Zhongshan City. You could go to Sun Yat-sen's Former Residence for a trip when you come to China for Guangzhou fair , By the way, Cantontradefair.com provides Canton Fair hotel packages and travel guide in China and Indochina, welcome to book.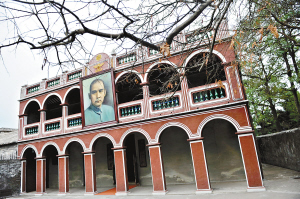 This village is renowned internationally not only for its beautiful landscape, but also for the sake that it has Sun Yat-sen's birthplace. Here is an ember two-story building characterized by both Chinese and western styles, the former residence of Mr. Sun Yat-sen.
It was in the predecessor of this house that Sun Yat-sen spent his boyhood. Between 1892 and 1895, Sun had his pre-career three years when he treated his country folks for their diseases, and read books about history and politics to seek approaches and truth saving the people in a dire crisis. Here he wrote his To Li Hongzhang (a Prime Minister of the Qing Dynasty) to show his patriotic concern for his country and people. Here, he and his close friend Lu Haodong made their "Recovery of China" anti-Qing-Dynasty plan.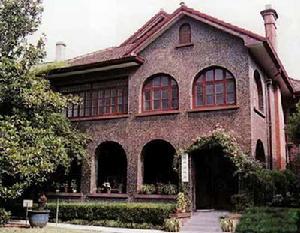 The major tourist spots include: the Former Residence of Dr. Sun Yatsen, Dr. Sun Yat-sen Memorial Park, Zhongzhan Town, the set base of CCTV, the Pedestrians' Street on Sunwen Road (W), Dr. Sun Yat-sen Memorial Hall. Zhongshan Hot Spring, Changjiang Amusement Park, Tourist Farming Plantation on the sea, Lingnan Water Village, Zima Ridge Park, Fufeng Pagoda, Forest Ranch, etc. Sun Yat-san Memorial Park: Being built in 1956, it is located in Cuiting village, 17.6 km southeast of Zhongshan City, 100km away from Guangzhou and 30km from Macao. Facing to the sea and sitting in the dense forest, it has a comfortable climate. Now it was turn to a beautiful park with an area of 60 thousands. Here, you will see the Dr. Sun Yat-sen's Residence, Memorial Hall, Sun Yat-sen sculpture statue, Cuiting common people residences etc.