Sitting in the South China Sea, the island, with a coastline of 5.7 kilometres, is only 30 kilometres from Sanya City. Today, Wuzhizhou is a playground of holidaymakers but in the past it was solely the home to a temple built for the originator of Chinese characters, Cang Jie, then Goddess Matsu, and later, a strategic defence zone. It was only during the 1990s that it became a place of leisure.
Due to its abundant and unique tropic island tourist resources, Wuzhizhou Island has been the most favored scenic spot for those medium and high-end tourists paying a visit to Hainan. Welcome to China for Canton fair. HRC is pleasure to provide booking Guangzhou hotels, China Tour Guide and Indochina tour packages for you.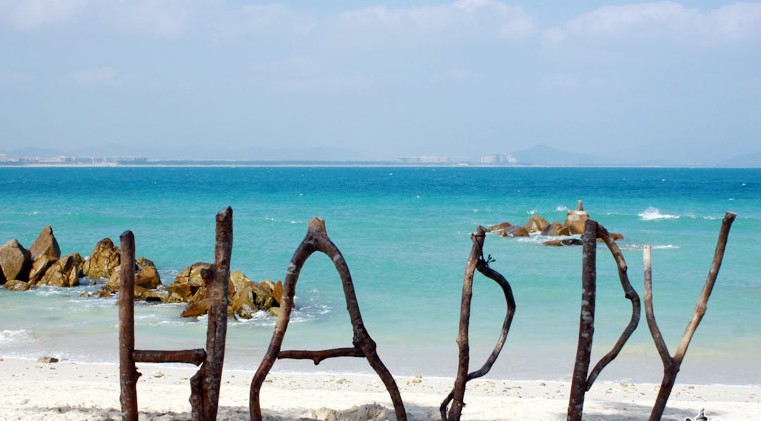 Gorgeous natural landscapes, various and characteristic supporting facilities such as villas, cabins, bars, tennis courts and seafood restaurants, and the well-developed thirty-odd maritime and beach entertaining events including diving sightseeing, semi-diving sighting, offshore fishing, water-skiing, yachting, windsurfing, motorboat, banana boat, canoe, dragging parachute, frisking boat, beach motorcycle, sea parachute jumping, beach volleyball and beach soccer, all of which may bring sight-seers and tourists with all experiences in the sense of primitivity, peace, romantism and dynamic vogue.
In addition to the natural attractions of the island, tourists are certain to be pleased by the delightful catering facilities here. In the south of the island there are the Buffet Lunch Restaurant, the Pirate Bar, the Seafood Pool and the Chinese Restaurant all providing excellent food. The Summer Western Food Restaurant in the east corner and the Winter Western Food Restaurant in the west corner of the island also offer a choice of delicious food. Local caught lobsters, prawns, crabs, conch, sea cucumbers and jellyfish will make your mouth water! Furthermore, this island is rich in fruits; bananas, coconuts, mangos and other tropical fruits are plentiful and inexpensive.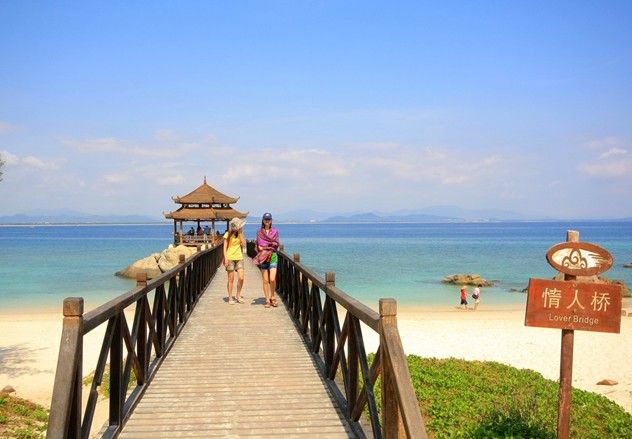 Diving sports prevails increasingly in recent years here. As a type of underwater sports, it covers skin diving and scuba diving. Offshore sports hereby include water-skiing, semi-diving sightseeing boat, dragging parachute, offshore fishing on yacht, offshore fishing on platform, fishing on shore, motorboat, circular traveling by yacht, luxury jetboat, banana boat, yachting, wind-surfing board and canoe etc. The beach sports include beach volleyball, beach soccer, beach motorcycle and so on. Blue sky, white clouds, azure seawater, gentle breeze from the sea and broad and exquisite sand beach, all of which have offered an opportunity for you to play volleyball and soccer, or experience beach motorcycle. You may taste joy and fun for fitness and sports at the same time.
The sea below is excellent for surfing, and has an extensive reef. The areas to the north and to the west of the island are relatively flat, with sandy white beaches being the norm. The water along these shores is gin clear, with a visibility down to 27 meters' depth, a real boon to scuba diving. These waters are rich in sea snails, sea cucumbers, lobsters, sierra fish, sea urchin, pomfret, and other colorful tropical fish. The bountiful coral reefs located in the gentle waters of the island's northern and western sides are of an entirely different character than the reef on the island's southern side, which is subject to much more vigorous wave activity and which has therefore developed accordingly.