As a famous commemorative structure of Chinese revolution built in 1931, Sun Yat-sen Memorial Hall was designed by the well-known architect of modern China Lu Yanzhi, who was also The Designer of Sun Yat-sen Mausoleum in Nanjing. The building complex is composed of the arch over the gateway, the auditorium and the stoteyed buildings on its eastside and westside. The auditorium is octagonal in the shape of the palace hall.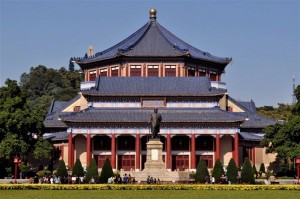 The hall, a grand octagon building of typical Chinese architectural style, looks brand new because of reconstruction in 1998. The masterpiece of architecture history is created with a span of 71 meters (about 78 yards) without a pillar but significant outlooks and delicate interior designs. As an important place for conferences and performances, it can hold thousands of people with sound equipment. In the hall there is also a display gallery showing pictures and letters of Sun Yat-sen.
The oldest ceiba in Guangzhou City grows in the hall, like a centuries-old man, witnessing great changes of this city; besides, you can also have a chance to see the two biggest white jade orchid trees of Guangzhou. Welcome to Sun Yat-sen Memorial Hall when you participate in Canton fair 2013 .
A bronze statue of Sun Yat-sen was set up in 1956 in front of the memorial hall. Stepping on the monument by a steel spiral staircase, you are presented with a panoramic view of the memorial hall.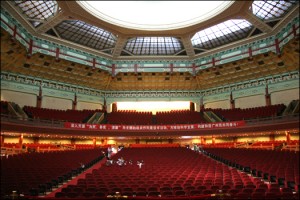 Sun Yat-sen Memorial Hall will refresh you after visiting the bustling commercial metropolis and provide you with a moment to touch this great man in Chinese history.
With big vermilion pillars, yellow bricks and sapphire-blue glazed tiles, the complex looks splendid and magnificent. There are 4,700seats in the spacious auditorium, with is beamless and produces no echo. the interior is decorated with paintings and patterns of strong national features. In front of it there stands the statue of Dr. Sun Yat-sen.