Compared with daytime cruises on the Pearl River, night cruises are more attractive. The sparkling lights on both banks of the river and the moon reflecting on its waters create a magical atmosphere. It starts from the White Goose Pool and end at either the Guangzhou Bridge in the east or the Baihedong (White Crane Cave) in the south.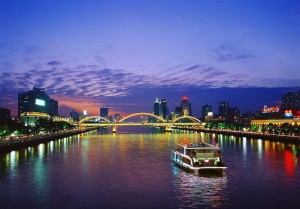 Book Canton Fair Hotel Package in cantontradefair.com or guangzhouhotel.com, get FREE ticket for Pearl River Night Cruise
Along the Pearl River, the views are magnificent. You can appreciate numerous historical sites and unique architectures, which are well reflecting of the history and culture of Guangzhou city. With sparkling lights on both banks of the river, modern buildings and several old bridges reflect themselves on the water surface, Pearl River Cruise creates a romantic atmosphere and leaves unforgetable impression to every visitor.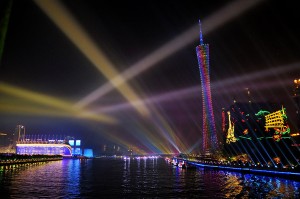 During the two hour cruise every visitor will be entranced by the beauty of the river and sights such as the White Goose Pool, Zhuhai Square, Aiqun Mansion, the Guangzhou Hotel and the European architecture of Shamian Island buildings. The ship also passes under ten famous bridges including Renmin Bridge, Haizhu Bridge, Guangzhou Bridge, and Jiefang Bridge.
As the third largest river in China, the Pearl River measures 2,129 meters in length, with its name deriving from the Haizhu Rock (Sea Pearl Rock). When the thousand-meter long Pearl River went through Guangzhou City, a huge rock island in the center of the river was scoured time and again and became smooth and bright like a pearl, called 'Sea Pearl Rock', hence the name 'Pearl River' for the river with this rock.