The Sacred Heart Cathedral is located in downtown Guangzhou Yide Road , is a cathedral of the Catholic Diocese of Guangzhou is the most magnificent, the most distinctive. The church was built in 1863, completed in 1888, lasted 25 years was built, has 130 years of history. All the walls and pillars of the church is built of granite, it is also called the "stone" or "Shishi sacred heart of Jesus church", "Shishi Catholic church". Is the provincial key cultural relics protection units. The Canton fair 2013 will be helded in Guangzhou, maybe you can go to the Sacred Heart Cathedral of Art if you have a time.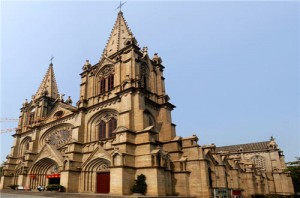 Into the church, each about 10 giant stone pillars supporting the cross, a sharp rise in the pointed arch, the interior of the church retains and consistent appearance to rising feeling. Hall top is highest in the middle, both sides slightly low, represent fluctuant trend. From the entrance to the altar, because the pointed arch structure column arrangement and top of the hall, the hall has an extended forward and upward feeling, rendering a solemn religious atmosphere.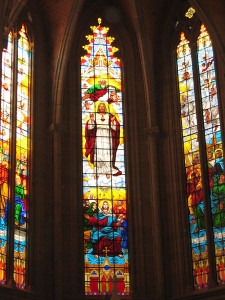 As one of the architectural highlights in Guangzhou, the church took the builders 25 years to finish the building. It has been recently refurbished because it was damaged in the 20th century. The stained windows, high arches and spires, and the spacious and high inner sanctuary make the building look like a European cathedral.
Holy Heart Cathedral Fee and Opening Hours
Admission Fee: free o­n every sunday 7:00-10:00
The Mass Time: (Monday to Saturday) the first scene 6:30, the second scene 7:00
Saturday night: 19:00 (mandarin)
Sunday, the first scene 6:30, the second scene 8:30, the third scene 22:30(english)