Qingyuan City, in northwest Guangdong, is famous for its rivers, hot springs, craggy caves and forests. There are also people from the Yao and Zhuang minority groups living there. Attractions include Feixia Scenery Spot, Qingxin Hot Springs, Lianzhou Underground River, waterfall clusters and ancient temples. Welcome to Guangdong for Guangzhou Fair, you could go to Qing yuan for a nature trip.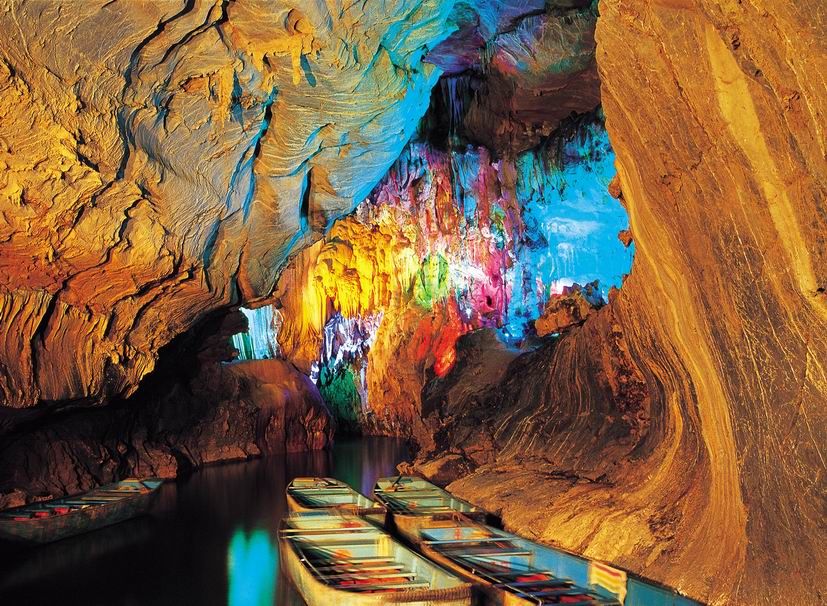 Lianzhou subterranean river, locate in the national AAAA level tourism scenic area of Qingyuan city, China. This is a rare type of Subtropical karsts topography cave. The magnificent stalactite and in-cave underground river are famous.
Located in the outskirt of Lianzhou city, Guangdong province, Lianzhou Underground River hides amid a giant Karst cave consisting of three layers. The upper two layers can be reached by foot, while the lowest layer is only accessible by boat. Filled with stalagmites and stalactites, this cave has lured adventurers and poets since ancient time. Along these grotesque limestone formations, one can perceive dozens of inscriptions. Meandering for over 1500 meters and passing three gorges along its way, Lianzhou Underground River promises strong visual impact and thrilling feelings. Though flowing quietly, this 1.6-meter wide and 1 to 7-meter deep subterranean river emits impenetrable air. Equipped with 18-seat boats and helpful guides, you can appreciate this underground fairyland in a safe, romantic and extraordinary way.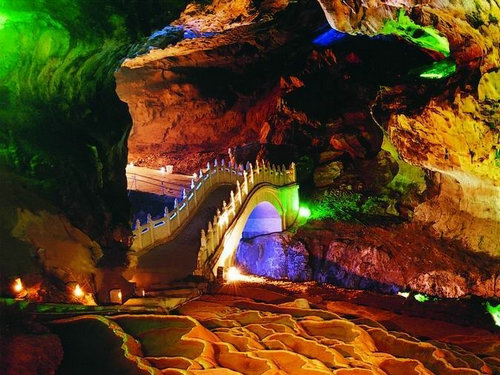 Lianzhou Underground River Scenic Spot covers 53.000 square kilometers. Going along the zigzag and undulating path on the first layer, one could see various configurations of stalactites: Milei Buddha, Guangong, Mengjiangnv, and other lifelike animals as well as vivid characters in the legends.  Layer upon layer stalactite is like terraced fields winding in the two banks of Xianrenhe River with beautiful and zigzag shape. The landscape is very similar to Huanglong (yellow dragon) in Sichuan Province).
The lower floor of the cave encompasses an underground river measuring about 1,500 meters (4,920 meters) long. The river winds its way to the depths of the cave with the width and depth of the waters varying greatly here and there. Drifting lazily along the water in a boat, you can admire the spectacular scenery along the banks as you pass through the narrowing and widening river. Sometimes, the enchanting stalactites are even within easy reach! The zigzag river runs through three little picturesque gorges which were respectively called 'Longmen Gorge', 'Lotus Gorge' and 'Banana Gorge' according to their shapes.