Nansha Tin Hau Temple Lingdingyang close to the Pearl River to the sea, is located in the south of Grand Cape Shandong, rivers, its construction and stacked on the mountain, glorious temple, magnificent pavilion in the center of the square is carving days after icon , to commemorate the sea goddess Lin Mo built, building characteristics, is a style of the Beijing Palace Museum and Nanjing in Nanjing, making one, the size of the modern world is most similar architecture, known as "the world after the first gong" Temple is the largest in Southeast Asia. The canton fair 2013 will be helded in Guangzhou, maybe you can go to Nansha Tian Hou Palace if you have a time.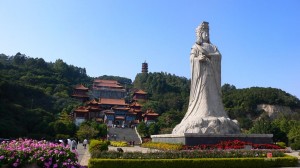 Behind the square is the memorial archway, on which the name of the palace is written over the top, and some inscriptions written on both sides. Once you have gone through it, you will come to the main gate where honored the statues of two legendary immortals, Clairvoyance (thousand-mile eye) and clairaudience (wind-accompanying ear).
Walking up the flagged path after entering the gate, you will come to the Hall of Blessing where a statue of the heavenly empress is honored. She is guarded by four Dragon Kings (the Gods of the sea) holding up a jade tablet and standing at each side. Then comes the Main Hall, the center of the whole palace. In the hall, two statues of the Goddess are honored in a shrine. One is 3.8 meters (about 12.5 feet) high, plated and carved from the fragrant sandalwood. The other is known as 'soft-body' statue, whose hand and foot joints are movable. The entire Main Hall is filled with a sense of benevolence and majesty, rectitude and holiness. Behind it is the Resting Hall, the living room of the Goddess, where a sitting sculpture of the goddess is displayed together with some simple instruments of her daily life.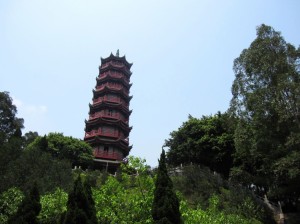 At the very back of the palace is the Nanling Tower, an 8-storey building. It rises to a height of 45 meters (about 148 feet) and is the highest point of the whole palace. There is an unwritten folklore spread widely among Chinese people that the code of a God is singular, while that of a Goddess is plural. Because of that, the number of all stories, steps and tiles there is plural.
In addition, there are seven forts together called Dajiao Mountain Forts in the palace, which have been listed as national priority cultural relic protection sites in 1982. Additionally, the Free Life Pond is also worth a visit, where tourists could set free small creatures. Every year, this place attracts a lot of visitors by its charming scenic beauty and classical buildings. It definitely deserves a visit on your trip to Guangzhou.