Lotus Hill, one of the famous hills of the Pearl River Delta, is located in the eastern outskirt of Panyu City, 20km from Guangzhou and 60 sea miles from Hong Kong. Covering an area of 2.54sq km, Lotus Hill is composed of 48 red sandstone low hills, the highest of which is 108m tall. It has the best preserved ancient quarry site, with a history of 2000 years in China.   The lotus city itself was built during the Kangxi's reign of the Qing Dynasty (1644-1911). There is also the gold statute of the Goddess of Mercy, which is the biggest in the world. The statue was cast in 1994 with 120 tonnes of bronze and 180 taels of gold coating and measures 40.88m. The Lotus Hill Tourist Resort displays a combination of ancient ruggedness and modern delicacy. Do not miss Lotus Hill when in Guangzhou.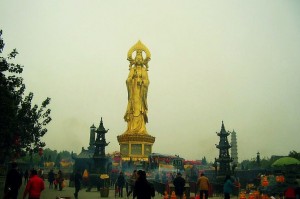 The statue of the Goddess of Mercy is also considered to be the biggest statue in the world. It was built in 1994 and has 180 gold teals and bronze that weigh 120 tons. Apart from this, the area also has some stone quarries that are about 2000 years old. The authorities have preserved these mines with enough care and they have now become an important part of the Lotus Hill in Guangzhou. Welcome to Lotus Tower when you participate in Canton Fair.
Lotus Tower, built in the 40th year of the emperor Wan Li in the Ming Dynasty (1612 A. D.), is the representative of the Lotus Tower scenic spot. It is also called Wen Chang Tower. Lotus Tower has been honored as the "Capital's Cloud Pillar". Climbing up to the top of the tower, you can take a nice look of the running  water of Zhujiang River and the crisscross paths on farmlands.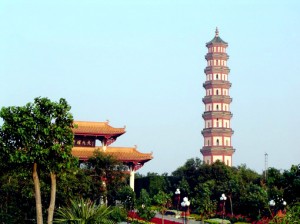 The site of stone landscape, once the ancient stone quarry since western Han Dynasty, is full of steep cliffs, rocks in varied shapes and strange rocks and caves. The whole site is the only artificial Danxia miracle in China, also called "relic of stone carving".
The Eagle Cliff, on the other hand, painted an opposite picture. Looking down from the Eagle Cliff, one will see crisscrossing roads, vast fertile land, and boundless Pearl River winding to the east.
The Lion Stone is a replica of a stone lion that seems to be roaring, facing the Pearl River. The presence of this statue has also given this attraction in Guangzhou its second name – the "Lion Hill". On this hill, you will find the Lotus Tower that dates back to the Ming Dynasty. It was built by emperor Wan Li, who wanted to celebrate his 40th year of ruling. The tower is also famous by the name of "Capital's Cloud Pillar", stressing the fact that Guangzhou is the capital of the Guangdong province.