Haizhu Bridge is an iron bridge across the Pearl River in Guangzhou, China.
The bridge runs from Haizhu Square in the Yuexiu District, and south towards Jiangnan Avenue in the Haizhu District. Haizhu Bridge was the first bridge to be built across the Pearl River in Guangzhou. Work started in 1929 and ended in 1933, and was completed by the American contractor Markton Company.
The bridge was damaged by the Japanese in 1938, and again in 1949 by retreating Kuomintang forces. Today the bridge carries a two-lane, bidirectional road connecting the north and south banks of the Pearl River. In 2009, the bridge gained notoriety when a number of people threatened suicide by jumping off the bridge.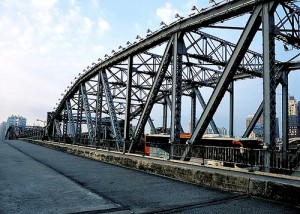 The renovation work on Guangzhou's Haizhu Bridge will begin sometime this month. Two design and construction firms won the bidding yesterday (1st).  One of the two firms, the China Railway Major Bridge Engineering Group, is regarded as one of the most experienced since it built many of China's major bridges, including those in Wuhan and Nanjing. It is expected that it will take 200 million Yuan to renovate Haizhu Bridge. The Canton fair 2013 will be helded in Guangzhou, maybe you can go to Haizhu Bridge if you have a time.
The bridge is also a perfect place for couple to have a romantic time together. Watching the sun sets from the bridge might be one of the most romantic moments you could ever spend with your beloved one. Under the light shine and the quietness of the river water, it is indeed an ideal place for couples to just stroll along the bridge talking to each other more personally. In fact, the area nearby is lined up with a series of shops, bars and cafes with dimmed light creating even more romantic situation. Along the sideway of the bridge, there are also photographers offering their service to take photographs with the bridge and the water as the background.