Guāngxiào Sì, historically known as Temple of Bright Filial Piety or Kwong Hau Temple) on Guangxiao Road is one of the oldest Buddhist temples in Guangzhou, Guangdong province, China. It was the mansion of Prince Zhao Jiande of the Nanyue Kingdom during the Western Han Dynasty (206 B.C.-A.D.24).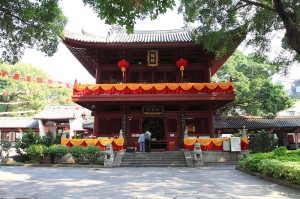 The temple was initially built by an Indian monk during the Eastern Jin Dynasty (317- 420) but the present temple, occupying an area of 31,000 square meters, dates from the Qing Dynasty (1644 – 1911). The temple has an important place in Buddhist history as Huineng of the Zen Buddhist sect was a novice monk here in the 7th century.
The Grand Hall, the main building in Guangxiao Temple, was built on a high platform, flanked by a Bell Tower and a Drum Tower. Inside the Grand Hall, there are three giant Buddha statues, the Sakyamuni, the Buddha of Wisdom, and the Samantabhadra.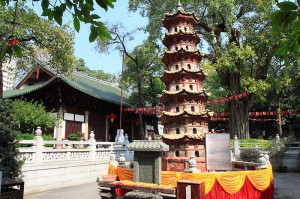 The East and West Iron Pagodas in the temple are the oldest extant pagodas in China. The West Iron Pagoda, which has high artistic value, was built earlier than East Iron Pagoda which forms a square and has seven storeys. It is 7.69-meters in height overall. The body is covered with more than 900 niches for Buddhas.
Entrance Fee: CNY 5
Opening Hours: 06:00 – 17:30
Transportation:
A. Bus Routes: Take Bus No. 27, 83, 103, 105, 109, 186, 204, 229, 253, 261, 283, 289, 297, 518, 549 or 556 and get off at Guangyi stop, and walk to the temple;
B. Subway Line: Take Subway Line 1 and get off at Ximenkou station, and walk to the temple.