Foshan Ancestral Temple is a representative of Guangdong ancient architecture. First built in Yuanfeng Era of Song Dynasty, the temple is completed into an integrated temple in Qing Dynasty. It is listed as national protected historical relics. In the main hall of the temple, a lot of precious crafts are displayed, including 70 articles of weapons, a giant bronze mirror up to 1.33 meter, and a lot of iron items made in Ming and Qing dynasties. Welcome to China for Canton Trade Fair. We are pleased to offer cheap Guangzhou hotels booking in Cantontradefair.com, and we also provide great service in China tours for you.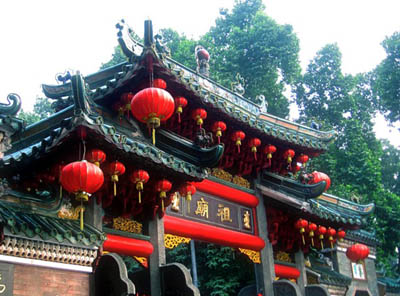 Ancestral Temple, located at the urban area of Chancheng District, as it was said, was founded during Yuanfeng period of North Song Dynasty (1078-1085), wherein Emperor Yuantian in north China was worshiped by the Taoists. Thus, it was also called "Northern Emperor Temple". The original buildings of the Temple were burnt down in the late Yuan Dynasty and reconstructed in the fifth year of Hongwu Period, Ming Dynasty (1372). Therefore, it is called Ancestral Temples owing to its "long history and the first one of (Foshan's) temples". In 1962, it was recognized as a key protection unit of historical and cultural relics of Guangdong Province and managed by Foshan Museum.
The buildings in Foshan Ancestral Temple occupy an area of 3,500 square meters and include Wanfu Stage, Lingying Archway, Jinxiang Pool, Qingzhen Building, a bell and drum tower, the front hall and the main hall. The architecture, decor and articles on view in Foshan Ancestral Temple are remarkably refined, and are part of the unique historical heritage of Foshan. Foshan Ancestral Temple is praised as a palace of oriental arts.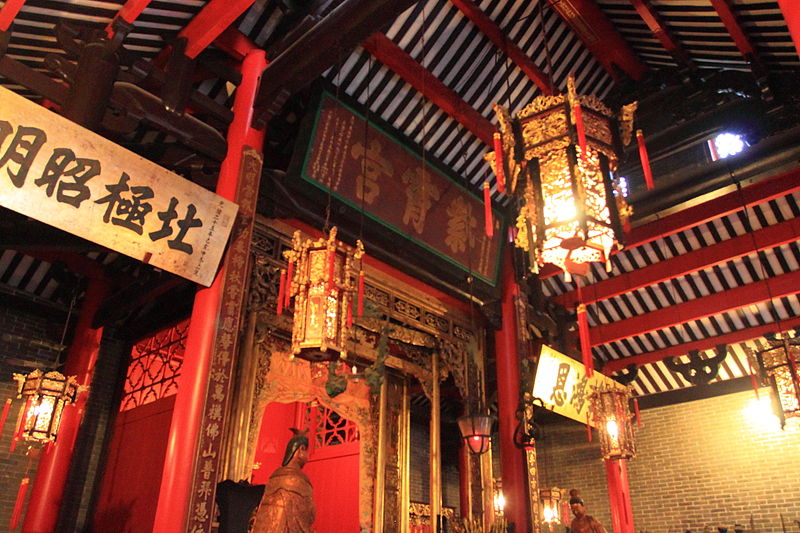 The Ancestral Temple is composed of such buildings as Wanfu Platform, Lingyin Torii, Jinxiang Pond, Zhonggu Garret, Three Gates, Front Hall, Main Hall and Qingzhen Garret, etc in line with the central axial. Prior to setting up local administrations in Qing Dynasty, Ancestral Temple, other than a simple one, was a place aimed at discussing official business. All of its construction materials, or even decorations and furnishings were donated by various industries and mainly produced locally. Typically, Ancestral Temple reflected of the famous foundry and potting handicraft industry in Foshan history. In turn, the refinement and beauty of its architecture reflected of the prosperity of ancient Foshan. In deed, it's a precious historical heritage of Fohan. Therefore, Ancestral Temple is granted the reputation of "Oriental Art's Palace" by visiting foreign friends.